Mission Project  –  Rev. Nicholas Salifu & The Churches Of Northeast Ghana, Africa
_________________________________________________________________________________________________________________________________________________________________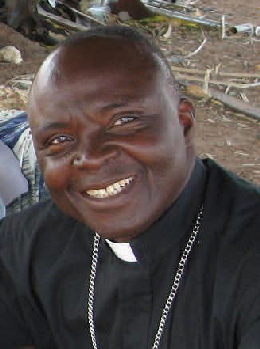 Rev. Nicholas Salifu grew up as a nature worshiper, together with his family. His father later led  the whole family to become Muslim, because of all the animals he was having to sacrifice to the nature 'gods' and 'spirits' to keep them happy. Nicholas soon discovered that Islam was just as much a religion of works and demands as was the worship of the nature 'gods' and 'spirits'.
Fortunately, Nicholas was the first in his family to receive a higher education, and landed a good job in Tema, Ghana, working for a subsidiary of Nestles. While working in Tema, he met an LCMS Missionary, Rev. Walter Schmidt, who introduced Nicholas to the Good News of Jesus Christ, and by the power of the Holy Spirit, Nicholas became a believer in Jesus, his Savior, and was baptized. This was the beginning of a long journey for Nicholas – both in becoming an Evangelist to his own people in Northeast Ghana, Africa, and later to becoming a Pastor.
Since those humble beginnings, the Lord has used Rev. Salifu to witness to thousands of people, start 13 congregations in Northeast Ghana, begin a Christian Day School that now serves over 900 students, many of them being Muslim – who are hearing the Gospel for the first time in their lives, and taking it home to their families. The list of everything Rev. Salifu has accomplished is too long to list here, but you can find extensive information about his work, and the Gospel Outreach to the people groups of Northeast Ghana, through the Lutheran Mission Agency: Ghana Harvest, which is based in Collinsville, IL. For more information on Ghana Harvest, and Rev. Salifu's work, click below.
Trinity has been helping to support Rev. Nicholas Salifu, and the Churches and School of Northeast Ghana, Africa, since 2017, through Ghana Harvest. If you would like to help support this Mission Outreach, please give your gift to Trinity Lutheran Church, and 'earmark' it for:  Ghana Harvest.
For a complete list of Mission Projects that you can help support in the Northeast Region of Ghana, Africa – with your Mission Monies – please click on the button below.