Mission Project  –  LWML:  The Lutheran Women's Missionary League
__________________________________________________________________________________________________________________________________________________________________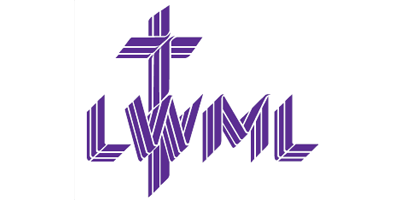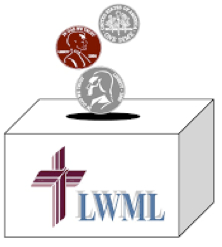 The Lutheran Women's Missionary League (LWML) is an official  auxiliary organization of:  The Lutheran Church—Missouri Synod. For over 77 years, the LWML has focused on affirming each woman's relationship with Christ, encouraging and equipping women to live out their Christian lives in active mission ministries and to support global missions.
Our Mission Statement
The mission of the Lutheran Women's Missionary League is: "To assist each woman of The Lutheran Church—Missouri Synod in affirming her relationship with the Triune God so that she is enabled to use her gifts in ministry to the people of the world".
The women of Trinity Lutheran Church have been faithfully supporting the LWML for many, many years through their service projects, fundraisers, and Mite Box offerings.
Every member of Trinity is invited to pick up a Mite Box from the LWML display in the narthex, and use it to collect your Mites For Missions (pennies, nickels, dimes, quarters, and even bills). When your Mite Boxes are full just bring them to Trinity's Church Office, or keep them until our next collection of Mite Box Offerings. Through your Mites the women of the LWML have provided millions of dollars for countless Christian missions throughout the world over the last 77 years. To God Be The Glory!
In addition, if you would like to help support the mission of the LWML with a larger gift, please give your gift to Trinity Lutheran Church, and 'earmark' it for:  LWML Missions.
If you'd like to find out more information on The Lutheran Women's Missionary League, please click on the button below.